This retro review is for the 1994 Psygnosis/Sony Imagesoft Sega CD version of the little-known horror game
Mary Shelley's Frankenstein
, which was also released by Bits Studios/Bits Corporation Ltd. for the Sega Genesis and Super NES in the same year.
Lately, I've been digging silent films and one thing I've noticed is that you really don't need more than 90 minutes to tell a great story. Actually, most of the movies I've been watching clock in just around 65 minutes. Of course, I don't mean that games should only run for about an hour for you to get something out of them. But sometimes the "less-is-more" effect pays off in great dividends when it comes to games. Why games? I don't know. It's totally snobbish of me, I know, (and feel free to call me out on it in the comments) but I just feel that gaming in general is so over bloated with fancy gadgets, and gimmicky shit and HD graphics and remakes that I just want games to go back to one- or two-sitting storytelling basics. Rant over. Feel free to hate.
Mary Shelley's Frankenstein
, I have to say, is not without its faults, though, or even its glitches, but it somehow managed to hit this sweet zone of difficulty and playability. The game loosely follows the famous novel and a few of the movie adaptations so there's nothing too surprising in the plot.
You play Frankenstein's monster, simply called "The Creature," and take control right after you wake from death. You guide the limping Creature around Dr. Victor Frankenstein's laboratory searching for various items in a side-scrolling style environment to make your escape into the town of Ingolstadt and beyond (Geneva, Augsburg Forest and more). Moving around these environments is in isometric 3D.
As the Creature, you have a choice: you can brute force your way through the seven levels or you can collect items that help you progress while avoiding fights. The battle system is no more than a 2D fighter (think
Street Fighter II
) but the controls are difficult to work with. Your arsenal: Kick, Punch, Jump, Duck, Block and your special move (Down, Down-Forward, Forward, A), a charging headbutt attack. The enemies, especially Victor's wife Elizabeth, are over-the-top hard to beat. So, your best strategy is to figure out how to get by all the characters and wildlife without entering a battle (that's right, you can fight animals, too).
Essentially, there are only about 6 fights that
must
be fought to reach the end, but you can pick many more if such is your inclination. I don't believe it affects the ending one bit. Your inventory is at the top of the screen (see below) along with your life meter and an icon that lets you know when you can pick an item up from the environment. You collect various food items that heal your life in explore mode but somehow this doesn't translate at all to your life bar in battle mode. Life you lost in one battle carries over to the next one, so unless I missed something, you have one life bar for all fights. But as far as items go, the Creature drops clues as to where to use them.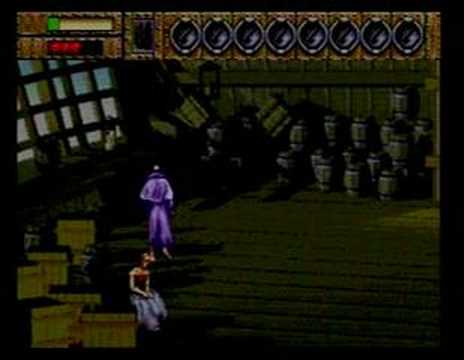 Life gauge, inventory, take icon...that's about as complicated as it gets
There are only 7 levels in the game (but some are repeats) and task management is definitely not a problem unless you have the memory of a goldfish. You'll know what to do and if you don't, you can always smash your way through. Ultimately, the Creature wants to confront Victor because he has become lonely as an outcast. He tells his creator to make him a companion, someone to share his zombie eternity with. And you'll just have to see how things end in the game.
Actually, as far as I know, there are two endings to
Frankenstein
. It might be because I've read the novel so I knew more or less the kind of ending that was awaiting the Creature, but the game really did capture the feeling of the novel in the end.
So despite some glitches (check out gamefaqs.com for a playable walkthrough) and a few funny lines of dialog, this was a surprisingly good game I definitely recommend.